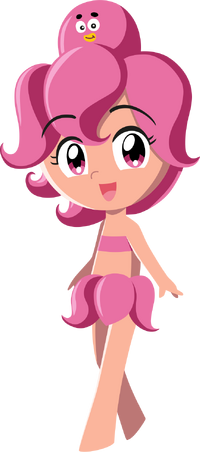 Polvina is the Octopus Princess.
Depiction
Edit
She has pink hair in the shape of an octopus like a crown representing her kingdom; she wears a matching skirt and pink top.
Polvina is a quiet and peaceful girl, timid as octopuses. Her best friends are Ester and Tubarina, who always live great adventures. She loves to read and draw and has a pet octopus named Tentie.
She is very smart and fun and always has a solution when she or her friends are in trouble or in serious trouble.
Polvina is 7 years old and has the sign of Taurus (♉️).
Voice actors
Edit
Isabella Dunwill (English)
Helena Palomanes (Brazilian Portuguese)
Ariela Yuri (Latin American Spanish)
Sonja Stein (German)
Anna Lamboni (Hungarian)
Snežana Koneska Rusi (Serbian)