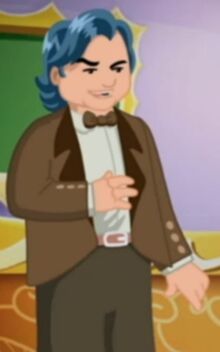 Mr Bernardo is the substitute teacher for Miss Marla's class during her absence. During his visit, he resides in Miss Marla's house.
On his first day, he got off to a bad start with
Polvina
, assuming that she was the troublemaker of the class. He later hurt his leg when he fell inside a wrecked Drylander carriage, where he was hiding from the monster octopus. However,
Tubarina
and
Ester
helped Polvina clear up the misunderstanding and the monster octopus extracted him from the wreck.
Ad blocker interference detected!
Wikia is a free-to-use site that makes money from advertising. We have a modified experience for viewers using ad blockers

Wikia is not accessible if you've made further modifications. Remove the custom ad blocker rule(s) and the page will load as expected.