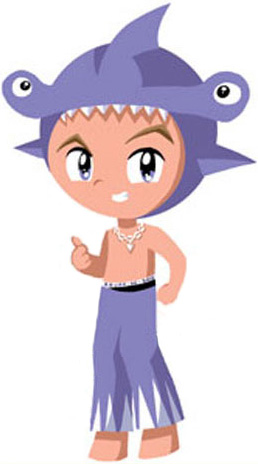 Marcello is the Hammerhead Shark Prince and cousin to Tubarina and Veto. He moved to the Shark Palace while his parents, the Hammerhead King and Queen, are on an important trip. Marcello likes to tease girls, cause trouble and to always win first prize in sports competitions. Occasionally, he fights with Tubarina, but deep down they are like siblings.
In The Hammerheads, Marcello is scared that his own species won't like him when a group of Hammerheads have a gathering. It is revealed that the gathering was a family reunion and the Hammerheads thought it was great to see Marcello present.
Marcelo is 8 years old and has the sign of Cancer.
Marcelo's counterpart in the books is a girl named Marcela, who is very educated and intelligent compared to his cartoon counterpart, who is a naughty troublemaker.
Voice actors
Edit
Jannik Endemann (German)
Dan Wylie (English)
Nikola Ristanovski (Serbian)