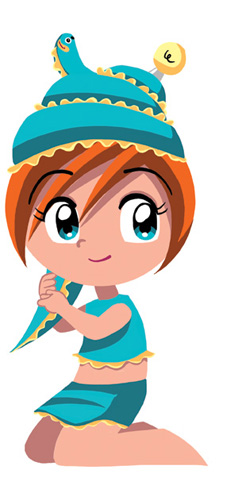 Elektra is the Princess of Electric Eels. Her parents say that she is hyperactive, though she does not understand what the word means. However, she suspects that it might have something to do with her electric personality. When she gets very excited, the light bulb in her crown lights. This is not shown in the TV series.
Elektra is 7 years old and has the sign of Aries (♈).
In The Return, Elektra returns with her family from a trip to the Farlands. While Tubarina, Ester and Polvina are planning a surprise for her, Marcelo bumps into Elektra.
Later on, the three girls forget about Elektra as they were planning to invite her over to talk about her trip. Therefore, they decide to plan a party for her. However, they forget to invite Elektra, so they go to her house to find her. When they return to the party, it turns out that Marcelo invited her to the party instead.
Voice actors
Edit
Meaghan Davies (English)
Ad blocker interference detected!
Wikia is a free-to-use site that makes money from advertising. We have a modified experience for viewers using ad blockers

Wikia is not accessible if you've made further modifications. Remove the custom ad blocker rule(s) and the page will load as expected.